News
How to Play
Products
Card List
Organized Play
Where to Buy
Featured Card: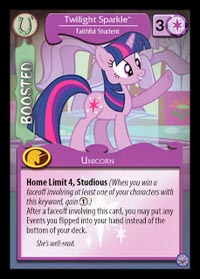 © Enterplay, Hasbro, All Rights Reserved.
Contact email can be found at the
bottom of the 'Where to Buy' page.

Card Translations


Surprise Party Pegasus



Card No.:
50
Rarity:
Rare
Color:
Pink
Points:
0
Type:
Friend
Power:
1
Cost:
3
Requirement:
3
Keywords:
Pegasus

Card Text
When you play this card to a Problem with a face-up Troublemaker, turn that Troublemaker face-down.
Flavor Text
One of the more elusive members of the Wonderbolts, Surprise has never been seen in public without her uniform on. Her teammates all say she is a blast to hang out with.
---