News
How to Play
Products
Card List
Organized Play
Where to Buy
Featured Card: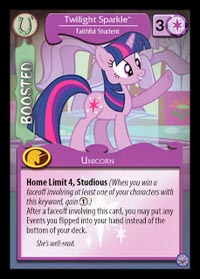 © Enterplay, Hasbro, All Rights Reserved.
Contact email can be found at the
bottom of the 'Where to Buy' page.

Card Translations


Too Much Pie



Card No.:
149
Rarity:
Uncommon
Color:
Orange
Points:
0
Type:
Resource
Power:
3
Cost:
1
Requirement:
2
Keywords:
Condition

Card Text
Play on a Friend.

This Friend gets -5 power during the Score Phase.
Flavor Text
When the Apple family invites you to lunch, it's okay to Just Say No after the third pie.
---