News
How to Play
Products
Card List
Organized Play
Where to Buy
Featured Card: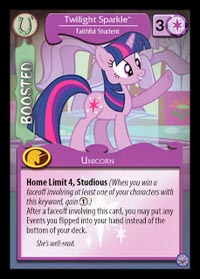 © Enterplay, Hasbro, All Rights Reserved.
Contact email can be found at the
bottom of the 'Where to Buy' page.

Card Translations


795 Wing Power



Card No.:
171
Rarity:
Uncommon
Color:
Blue
Points:
2
Type:
Problem
Power:
0
Confront Req. 1:
2
Req. 1 Color:
Blue
Confront Req. 2:
2
Req. 2 Color:
NotBlue
Opponent Confront Req.:
5

Card Text
Resources played on characters here have their costs reduced by 1 Action Token.
Flavor Text
Ponyville helped provide goggles for everypony involved with tornado duty. The rest is up to them.
---