News
How to Play
Products
Card List
Organized Play
Where to Buy
Featured Card: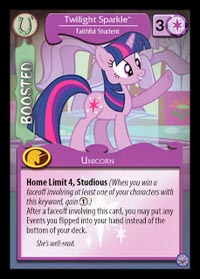 © Enterplay, Hasbro, All Rights Reserved.
Contact email can be found at the
bottom of the 'Where to Buy' page.

Card Translations


Not Enough Pinkie Pies



Card No.:
181
Rarity:
Common
Color:
Pink
Points:
3
Type:
Problem
Power:
0
Confront Req. 1:
2
Req. 1 Color:
Pink
Confront Req. 2:
3
Req. 2 Color:
Blue
Opponent Confront Req.:
7

Card Text
When a player moves a Pink character to this Problem, if they have a Pink character here already, they may draw a card.
Flavor Text
For Pinkie Pie, missing out on total-awesome-amazing fun is simply not an option.
---