News
How to Play
Products
Card List
Organized Play
Where to Buy
Featured Card: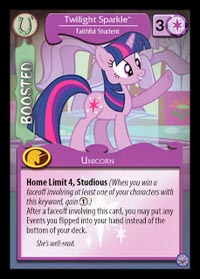 © Enterplay, Hasbro, All Rights Reserved.
Contact email can be found at the
bottom of the 'Where to Buy' page.

Card Translations


Igneous Rock™ Pebble Pusher



Card No.:
29
Rarity:
Common
Color:
Orange
Points:
0
Type:
Friend
Power:
1
Cost:
1
Requirement:
2
Keywords:
Earth Pony

Card Text
When you play this card, it gets +1 power until the end of the turn.
Flavor Text
Pinkie Pie's father runs the most successful rock farm in Ponyville history. His sedimentary rock collection is the envy of absolutely nopony.
---