News
How to Play
Products
Card List
Organized Play
Where to Buy
Featured Card: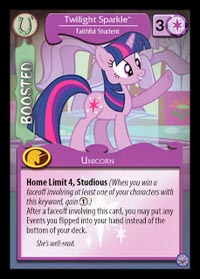 © Enterplay, Hasbro, All Rights Reserved.
Contact email can be found at the
bottom of the 'Where to Buy' page.

Card Translations


Rainbowshine Cloud Wrangler



Card No.:
16 (Foil #10)
Rarity:
Common
Color:
Blue
Points:
0
Type:
Friend
Power:
2
Cost:
2
Requirement:
1
Keywords:
Pegasus

Card Text
When you move this card to a problem, ready one of your characters there.
Flavor Text
Rainbowshine works on both the Ponyville weather team and the Cloudsdale weather factory. It's quite the daily commute, but she says it's worth the climate control experience.
---