2017 WGP Regional Applications Open!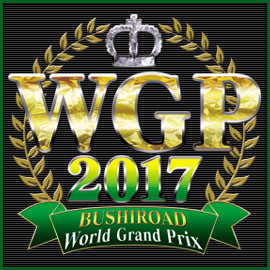 Hey, everyone, it's that time of year again! We're looking for requests for Regional locations for the 2017 WeiB Schwarz WGP North American Tournament! Tournaments across North America will be used to select Regional Champions, who are given entry into the National Tournament, to win a trip to Japan to play in the World Championship! More details soon, but we just got the go-ahead to take in applications for events, and that is just what we are doing!

If your site is chosen, you'll receive promotional materials to hand out, full judging support (either onsite or via remote), and the top player(s) at your event will get invitations to the WGP Nationals!

Now, to help move things along, the application this year is more in-depth. Also, please follow instructions properly - being able to do so is vital to having an event in your area.

** Respond by 8:00PM EST August 23rd. **
Note that you can still play in an event that you request, so no worries there! You will need at least one person that doesn't play in the event to help out, but they don't need to be a WS veteran, just someone that can follow instructions and communicate effectively - a shop employee, for example.
After we get your application into the system, you may receive one or two information request emails, for things like "what days do you have free for an event", or maybe "send us a picture of your play area". Please respond promptly to these emails, as they are specifically done to help your area get an event.

Some disclaimers: Applying and/or receiving followup emails does not guarantee you an event, nor does it guarantee the number of spots you will receive. If you are requesting it for a specific store, and you aren't that store's owner, get permission from them first to do this. The event can be upwards of six hours long, so be prepared to spend that amount of time on that date for the event.

--- BEGIN INSTRUCTIONS ---

Okay, here we go. If you are:
- the official representative of a Physical Store, or
- a playgroup, with no available Physical Store in your area, do the following:

EMAIL US at
.

Use the Subject line "WS WGP 2017 Regional Request - CITY, STATE/PROVINCE, STORE NAME OR PLAYGROUP NAME" (replace city, state/province, and name as appropriate)

Also, answer the questions below (best to copy the block below and just fill it in):

- BEGIN QUESTION BLOCK -
1: are you representing a store or playgroup?
Answer:
2: what is the name of that store or playgroup?
Answer:
3: your name
Answer:
4: your email
Answer:
5: your phone number
Answer:
6: your address
Answer:
7: have you personally run a WS WGP regional before? if so, when and which one?
Answer:
8: has anyone from your group/store attended Nationals before? if so, who?
Answer:
9: will you personally would have cell/internet access during an event (to use our pairing server and communicate via phone/Skype for event/judge stuffs)?
Answer:
10: Has the store/playgroup you are requesting held a WGP regional in the past? If so, which one(s)?
Answer:
10: 100 words or less on why you should get an event.
Answer:
11: Are you able to follow instructions and remain impartial?
Answer:
12: The names and contact information of people that will be able to help at your event (even just one or two is great). Get their permission to list them here! If you plan on playing in the event yourself, make sure to include the name of the person that will be the "non-playing helper".
Answer:

IF IT IS A STORE: (Non-Store Playgroups, scroll down for your section)
13: the store name
Answer:
14: the store owner's/manager name
Answer:
15: do you have the approval of the owner/manager to request this?
Answer:
16: the store email
Answer:
17: the store phone number
Answer:
18: the store address
Answer:
19: the store timezone
Answer:
20: the store website
Answer:
21: the average weekly WS players you get
Answer:
22: the approximate number of players you would expect at a regional if you had one
Answer:
23: the maximum number of players your store can handle at once (do not estimate! exact numbers only!)
Answer:

IF IT IS A PLAYGROUP:
13: do you have a location to run an event that is open to the public? (such as a local college / community area)
Answer:
14: the location's timezone
Answer:
15: the average weekly WS players you get
Answer:
16: the approximate number of players you would expect at a regional if you had one
Answer:
17: the maximum number of players your play area can handle at once
Answer:

- END QUESTION BLOCK AND INSTRUCTIONS-

That's it! We'll reply back within one week - if you don't hear from us by the deadline, drop us an email immediately to doublecheck.

So, get the word out to all your WS friends online, and help us get those applications in! Thanks as always for supporting WS and the WGP!