Kadokawa Sneaker Bunko Promotion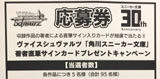 Bushiroad is going a giveaway for Kadokawa Sneaker Bunko! Players in North America who collect 10 of the entry forms (packed into Sneaker Bunko Boosters, see example to the right) can send them in for a chance to win a hand-signed Sneaker Bunko card!

Japanese details are here: https://ws-tcg.com/campaign/s-bp_sign/


Here's the steps you need to take:
1. Collect 10 of the cards
2. Put them in an envelope along with a piece of paper with the following info:
- Full name (in alphabet)
- Address including zip code
- Telephone number
- email address
- The card number for which you wish to apply (1~19 - the tickets list the titles, or you can click the Japanese URL above for details)
2A. (if you have multiple entries (20, 30, etc), put each entry in a separate envelope with a separate piece of paper, and then pack all those envelopes together for a single mailing)
3. Mail those cards to the following address in Japan (write in Japanese or English, use proper postage):
---
(if you want to write it in Japanese):
〒164-0012 中野坂上郵便局留
株式会社ブシロード 「スニーカー文庫キャンペーン係」宛
JAPAN
---
(or, if you want to write it in English - yes the spelling is correct):
Bushiroad Inc. 「Snicker Bunko Campaign」
Nakano Sakaue Yūbinkyoku
164-0012
JAPAN
---
4. Coupons must reach the address in Japan by May 10, 2019, Japan time.
5. If you win, your prize will be sent directly to you, even if you live overseas!

You can mail it yourself, no need to send it to Heart of the Cards. Note that your local store may have their own method of mailing them out in bulk to save everyone on postage - check with them for details.

Here's hoping that you win!