Points Exchange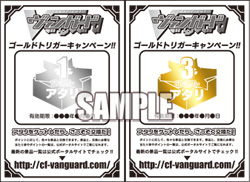 Some Booster Packs, boxes, and Trial Decks of Cardfight!! Vanguard have a Prize Coupon. While most of them say 'Try Again' in black text (for an example of a non-winning coupon with text on it, click here), some have Gold or Silver or Red or Blue Icons on them, which can be traded in for prizes unavailable anywhere else!

By mailing in your Coupons you can get prizes sent to you through your local store or even shipped right to your door!

Please read the instructions below carefully to redeem your prizes. Failure to follow instructions will keep you from receiving your prizes. Points Redemption can take multiple weeks depending on when you send them in.

US and Canada only, please. Other countries (France, Australia, Singapore, etc) have their own methods of point exchange.
| | |
| --- | --- |
| There is now a super-rare Platinum Trigger. If you get one, take a readable picture of the front and back and email them to us with the subject 'Platinum Trigger'. We'll tell you want to do. | |


Once again - we do NOT process points from Singapore.
Look up Genesis Frontier if you are from Singapore.



If you are under the age of 18, please get a parent or guardian's help and permission. By mailing points to us, you agree to all Terms and Conditions in regards to our North American Points Exchange program.





1. Gather up your coupons, and count the number of Silver Points you have. 1 Gold Coupon is worth 3 Silver Coupons. Note that Coupons have an expiration date - look under the picture of the prize mark to see. Coupons that expire by the end of the next month AFTER the date they arrive in our mailbox cannot be redeemed. (Example: If you have a coupon that lists a date of 6/2012, and it gets to us on or after 5/1/2012, it will be considered expired. We do not return these points, they are considered lost.)

2. Choose items from the list below. This list is updated every month, but is not always officially current. The current list is available on Bushiroad's Japanese site here.

3. Get a sheet of paper, and write on it: Your Name and USPS Mailing Address (Western countries only please), the Prizes you want and the Silver Coupon Cost of each, your Email, and whether you want the prizes Shipped to You or Shipped to a Participating Store. If you want your prize shipped to your local Participating Store, put "Ship to Store" and their Store Name (participating stores only, see below). Otherwise, put "Ship to My Address". Make sure it is readable, remembering that lowercase L's, number 1's, capital i's look the same, as does the letter O and the number 0, and capital S's and the number 5.

4. Put the sheet of paper along with your points coupons into an envelope and mail it to:
Heart of the Cards
Attn: Points Redemption
PO Box 18652
Rochester, NY 14618
Make sure to use a sturdy, well-sealed envelope, include your return address, and use proper postage, and get Delivery Confirmation (or use Registered Mail) to ensure that your coupons are tracked accurately and get to us okay. If you put too many points coupons inside, you will receive CF Storage Boxes for your remaining points. Too few, and we will fill your list top-down to the best of our ability. We apologize, but Heart of the Cards is not responsible for coupons that are lost or destroyed in the mail.

Alternatively, you can turn your points in to a participating store listed under "In-Store Pickup" below. They will submit your points for you, and have the items shipped to them, to give to you upon arrival. Please check with the store in regards to any store-specific instructions or fees charged for this service. In-store Pickup only available in-person.

5. Also send an email to
with the subject "Points Redemption" with all the information on the paper: include your name, email, mailing address, where you want the prizes shipped to, and the list of prizes you want and the point cost of each. This way, we have confirmation you sent something.

6. On the 1st of each month, we compile the letters and put the order in to Bushiroad in Japan. Should a prize be out of stock, we will contact you via email to have you choose a replacement. If we cannot get a hold of you or receive a valid answer, your coupons will either be A: banked (where you will have 1 month to use them, or they will be forfeit) or B: redeemed for a Storage Box of Bushiroad's choosing. Which happens is determined during the points exchanging process in Japan, and that decision is final.

7. When the prizes arrive, we will email you a notification. We then contact each person with the shipping cost. Shipping cost will be the amount of the postage + insurance required to get your points to Japan, get your items back, and get them out to you - we do not charge any more than what it costs us to ship points there and back, and ship to you. We use Priority Mail and First Class from New York, so you can estimate the weight of your prize and determine shipping that way (note that the packaging itself weighs a few ounces). As a rule of thumb, it will be approximately $7 for the domestic shipping portion + $2-$3 per item (more for large / fragile / high-point items) for the combined cost to insure, pay tariff, and ship items to US for US domestic delivery, + $1.15 per point for shipping and insuring the points shipment to Japan (should you get more items than can fit in a $7 flat rate package, and / or orders that require more than $50 of insurance for domestic shipping, will be adjusted to reflect that). Domestic orders with more than 10 points will be insured for approximately $5 per point up to the maximum allowed by USPS. Payment via PayPal. In-store pickup fees are charged instead by the store themselves - please contact the store of your choice for more information. Unpaid invoice items will be held for two months, then are considered abandoned. Contact us if you would like an estimate prior to shipping your points.

8. After receipt of PayPal, we will ship the Send to My Address prizes.





List of participating stores for In-Store Pickup: Hammergirl Anime, Rochester NY
Black Knight Comics, Essex Junction, VT
TheShop Gaming & Entertainment, Owatonna, MN




Prize List:
Name of Prize
(If link does not work, please try again - EN page redirects once)
Silver
Coupons
Pictures
(links to Bushiroad)
Robo Sleeve and Holder set
3
Pic
Battle Sister Sleeve and Holder set
3
Pic
Ultad Dragon Promo
1
Pic
Altmille Holder + Separator
1
Pic
Ahsha Holder + Separator
1
Pic
Hamsukes Holder + Separator
1
Pic
Overlord Holder + Separator
1
Pic
Vanguaro-Kun Deck Box + Sticker
1
Pic
Vanguard G Deck Box + PR Card
1
Pic
Vanguard G Sleeves Purple
2
Pic
Chrono & Shion Sleeves
2
Pic
Vanguard Sleeves Green
2
Pic
Grelion Sleeves
2
Pic
Special Treasure Box Aichi & Kai
(Storage, Deck Boxes, Promo)
6
Pic
Special Treasure Box Chrono & Shion
(Storage, Deck Boxes, Promo)
6
Pic
Official Storage Box Icon Series
1
Pic
9 Pocket Binder Red
3
Pic
10 Sheets for 9-Pocket Binder
1
Pic
Official Roboball Pen with Charm
2
Pic
Vanguard G Cloth Mat
3
Pic

Counterfeit, expired, and/or non-winning coupons will not be returned. HotC is not responsible for lost / stolen mail, covering both our Points exchange to and from Japan on your behalf and to and from you and us. Points items that are not claimed within two months of arrival are forfeit.