WGP 2022 > 1st Place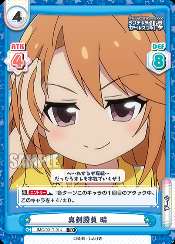 Will Altizer :: 2022 NA WGP Champion
"Top Idol"
(Idolmaster Cinderella Girls Theater)
How was the event?
I had fun, all of my opponents were good competitors. I lost to my friend Evan in swiss but won a rematch in top cut, which was extra good.
How do you win?
The goal is to slow down the opponent by sending their members to the waiting room, healing, or having high defensive numbers. On offense, the deck tries to win through basic numbers, having high attack and not getting stuck with low-stat cards in entry.
Kaede is a strong card that can survive on defense, has good attack power, and is useful to have in hand or in the waiting room. Haru, Nana, and Karen are similar high attack/high defense cards that aim to retire at least 2 opposing entries each turn. Kyoko is a card that allows me to aggressively play a blocker to member early to make more attacks before recovering it with her spark, but she also lets me return cost 1s to hand and play back over Kyoko to refill an non-filled member zone at lower cost and make more sparks, as well as Kyoko's 7 defense slowing down the damage from the opponent. Nagi and Yoshino are cards that can escape from entry for low cost and open up more chances to spark. And Mika and Yuko along with 8 heals slow the opponent's damage down whenever they spark.
Any Shoutouts?
Thanks to Dale and Evan in Ohio and Jason in Hampton for talking to me about Rebirth For You. And thanks to all the idols, especially Hikaru, who fueled the partner attacks all day today.
©BanG Dream! Project ©異世界かるてっと/KADOKAWA  ©上海アリス幻樂団 ©Project Revue Starlight © 2019 Ateam Inc. ©Tokyo Broadcasting System Television, Inc. ©Koi・芳文社/ご注文は製作委員会ですか?? ©bushiroad All Rights Reserved. illust.西あすか
HeartOfTheCards.com © Heart of the Cards.
Intellectual Property Notice