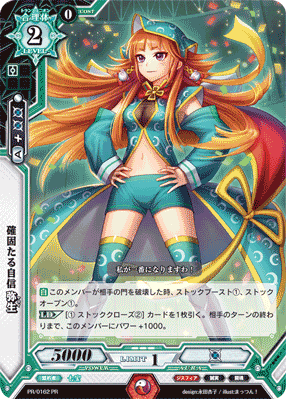 Trait 1: 七宝 (Qipao) Trait 2: 誠実 (Sincerity)
Trait 3: 闘魂 (Fighting Soul)
World: Disfia
[A]: このメンバーが相手の門を破壊した時、ストックブースト①、ストックオープン①。

[LD]:[① ストッククローズ②] カードを1枚引く。相手のターンの終わりまで、このメンバーにパワー+1000。
[A] When this member destroys an opponent's gate, Stock Boost (1), Stock Open (1).
[LD] [(1) Stock Close (2)] Draw a card. This member gains +1000 power until the end of opponent's turn.