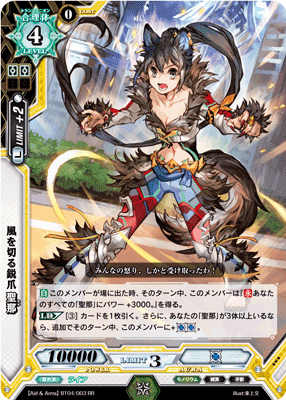 Trait 1: 誠実 (Sincerity) Trait 2: 牙獣 (Toothed Beast)
Trait 3: - (None)
World: Monolium
[A]: このメンバーが場に出た時、そのターン中、このメンバーは『[C]: あなたのすべての「聖那」にパワー+3000。』を得る。

[LD]:[③] カードを1枚引く。さらに、あなたの「聖那」が3体以上いるなら、追加でそのターン中、このメンバーに+[Aura][Aura]。
[A] When this member enters the Field, for the turn, this member gains "[C] All your "Sena" gain +3000 power".
[LD] [(3)] Draw a card. Then, if you have 3 or more "Sena", this member additionally gains +2 aura for the turn.