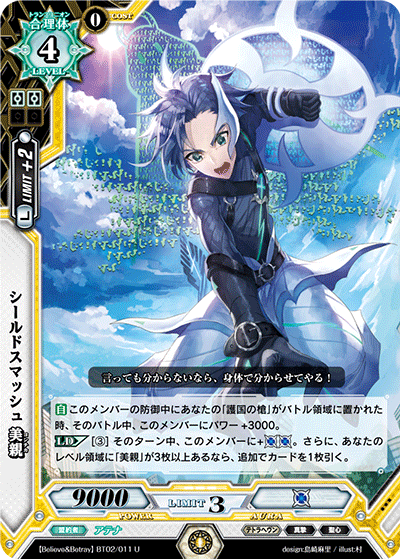 Trait 1: 真摯 (Devotion) Trait 2: 聖心 (Sacred Heart)
Trait 3: (-)
World: Tetra-Heaven
[A]: このメンバーの防御中にあなたの「護国の槍」がバトル領域に置かれた時、そのバトル中、このメンバーにパワー+3000。

[LD]:[③] そのターン中、このメンバーに+[Aura][Aura]。さらに、あなたのレベル領域に「美親」が3枚以上あるなら、追加でカードを1枚引く。
[A] When your card named "Patriot Smash" is placed to the Battle Zone while this member is defending, this member gains +3000 power for the battle.
[LD] [(3)] This member gains +2 aura for the turn. Then, if there are 3 or more "Yoshichika" in your Level Zone, additionally draw a card.